Be part of the international movement and use the Rare Disease Day official international communication materials found here!
REMEMBER, the materials may not be used for commercial purposes (full information about the use of the Rare Disease Day logo and the registered trademark).
EURORDIS (Rare Diseases Europe) and 37 National Alliances around the world work together to build the annual campaign for Rare Disease Day. This is to help you in your local mission to build awareness for rare diseases and more specifically the rare disease which may affect you or your family. Plan your event!
To learn more about the spirit of Rare Disease Day and using the communications materials from the international campaign, watch our webinar.
Materials available:
Official Rare Disease Day video (coming soon)
Become a Friend and tell us what you will do with this material!
Official poster for Rare Disease Day 2016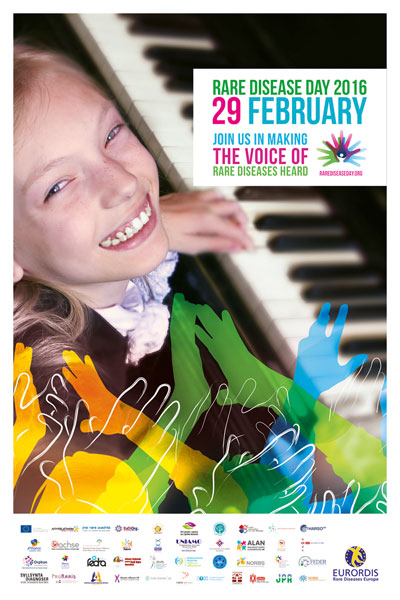 For web (RGB, 72 dpi)
For print (CMYK, 300 dpi)
For designers (CMYK, 300 dpi)

Rare Disease Day logo and style guide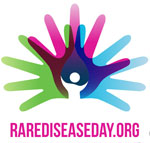 The Rare Disease Day logo is a non-commercial symbol of global partnership in the search for ways of improving the lives of those affected by rare diseases. We ask only that the logo be displayed in the spirit in which it was intended.
The Rare Disease Day logo is a registered trademark, not to be used for commercial purposes. The logo may only be used in support of activities organised commemorating and/or promoting the Rare Disease Day. The logo, if used, should stand alone. Do not alter the logo in any way such as by changing the design, colours or the proportions, or crop it or combine it within any other logo. In case it is not possible to use the correct colours due to technical limitations, use the logo in black and white.  A non-compliant use of the logo constitutes an infringement of EURORDIS' trademark rights.
Website Countdown

Copy the code below and paste it into the HTML code of your webpage.
Email signature


Email signature (JPG - 470 x 70px - 14 KB)
Information Pack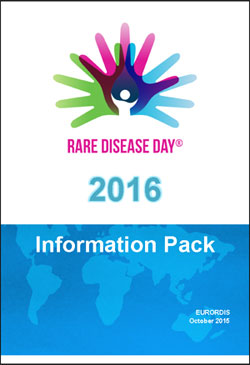 Download the Information Pack (PDF - 2MB)
Watch a video explaining the contents of the Infopack and learn how it can help you!
Flyer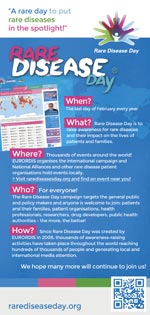 Social Media
Do you have ideas about other materials we could produce and share which would help you build awareness? Write to us at [email protected]