The Rare Disease Day 2017 official video is OUT NOW!
Share this video on social media and with your friends and family to help spread the word about Rare Disease Day, 28 February 2017! Together we can collaborate to improve research for rare diseases around the world. 
Imagine what it would be like to live without answers to the most basic of questions. This is the reality for many rare disease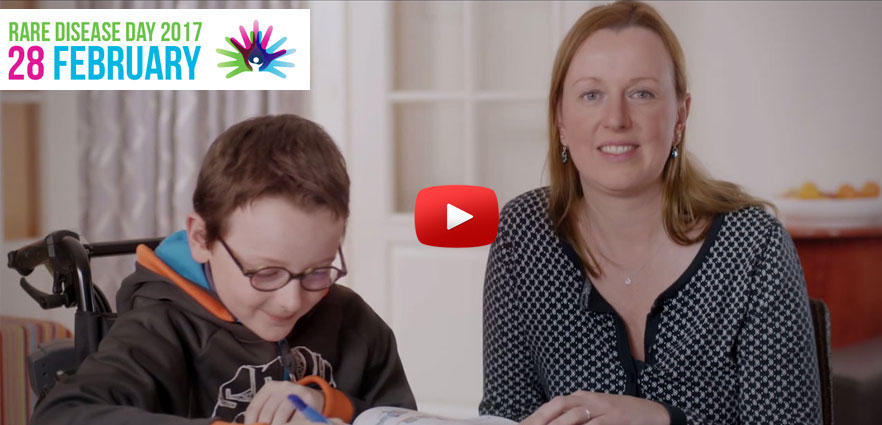 patients. Research can lead to the identification of previously unknown diseases and can increase understanding of diseases. It can enable doctors to give a correct diagnosis and provides information to patients about their disease. It can lead to the development of new innovative treatments and in some cases hope for a cure.
People living with a rare disease are sometimes unable to find answers and medical solutions they need, often because of a lack of research. To illustrate this isolation, this year's video draws a parallel with a routine that many of us go through multiple times a day – searching for an answer on the internet. The video highlights how isolating it is when you search on the internet but receive the response 'your search had no results'.
This is why research is key. It brings hope to the millions of people living with a rare disease across the world and their families.
The video, which is being translated into over 30 languages, highlights this struggle that rare disease patient's face, and also emphasizes the importance of research and the possibilities that it can bring. Rare Disease Day 2017, with the theme of research, is therefore an opportunity to call upon researchers, universities, students, companies, policy makers and clinicians to do more research and to make them aware of the importance of research for the rare disease community. 
You are able to watch the video in your language here.  If the video is not yet translated in your language, you can send us the translation at [email protected] and we will embed the text as subtitles in the video for you.
A huge thank you goes out to all those who helped in the creation of this video. Special thanks to the star performers Océane, who is living with pemphigus, Geoffray, who is living with retinitis pigmentosa, Mathieu, who is living with congenital myasthenic syndrome, and his mother. 
Thanks also to AFM–Téléthon for the production of the video!
The collaboration of all those involved in the video is symbolic of the unity and solidarity that families, professionals, policy makers, researchers and industry demonstrate with people living with a rare disease. Share the video on Facebook and Twitter to become part of the international campaign!
If you haven't signed up to receive updates, then go to rarediseaseday.org and find the sign-up sheet on the side bar in blue. You can also keep up to date with Rare Disease Day via social media: Facebook – Twitter – YouTube – Flickr