Research brings hope to people living with a rare disease
The Rare Disease Day 2017 theme is research.
The Rare Disease Day slogan is 'With research, possibilities are limitless'.
Imagine going to see your doctor only to be told that they don't know what is happening to your body, that they don't know what your disease is. Imagine that they can diagnose your disease but tell you that there is no cure or even treatment available. Or that the treatment available is not fully effective but just the best possible option. You don't know how you or your loved one will manage life from one day to the next, nor how the disease will affect your work or school life.
Imagine what it would be like to live without answers to your most basic questions.
This is the reality for many rare disease patients. Research can lead to the identification of previously unknown diseases and can increase understanding of diseases. It can enable doctors to give a correct diagnosis and provides information to patients about their disease. It can lead to the development of new innovative treatments and in some cases a cure.
Research is key. It brings hope to the millions of people living with a rare disease across the world and their families.
Rare Disease Day 2017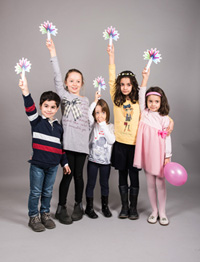 Rare disease research is crucial to providing patients with the answers and solutions they need, whether it's a treatment, cure or improved care.
On 28 February 2017, the tenth edition of Rare Disease Day will see thousands of people from all over the world come together to advocate for more research on rare diseases.  Over the last few decades, funds dedicated to rare disease research have increased. But it can't stop there.
Rare Disease Day 2017 is therefore an opportunity to call upon researchers, universities, students, companies, policy makers and clinicians to do more research and to make them aware of the importance of research for the rare disease community.
Rare disease patients and families, patient organisations, politicians, carers, medical professionals, researchers and industry will come together to raise awareness of rare diseases through thousands of events all over the world.
Rare Disease Day 2017 is also an opportunity to recognise the crucial role that patients play in research.
Patient involvement in research has resulted in more research, which is better targeted to the needs of patients. Patients no longer solely reap the benefits of research; they are empowered and valued partners from the beginning to the end of the research process. Patients:
Advocate for research on a specific disease or across diseases. They know where research is needed and work to influence research bodies and companies to prioritise these areas in their research.
Fund research. Individuals or patient organisations such as the AFM-Téléthon often raise money for clinical trials or research projects, on their own or in partnership with private funding initiatives.
Partner in research projects and are included in the governance of research.
Participate as subjects in clinical trials and also in the design of clinical trials. They therefore help to ensure that the development of a medicine takes into account their real needs, so that the patient perspective is not overlooked.
Backgrounder on rare disease research
The US Orphan Drug Act (1983) and the EU Regulation on orphan medicinal products (2000) both stimulated rare disease research. This is the result of determined advocacy efforts from the rare disease community to ensure that policy makers, companies and researchers understand the benefits of rare disease research.
In EU programmes alone, €620 million were assigned to rare disease research between 2007 and 2013. Money continues to be allocated to rare disease research through the EU with €200 million assigned between 2014 and 2015, making rare disease research continuously attractive to scientists. In parallel, EU Member States have grown their research budgets.
Due to the rarity and diversity of rare diseases, research needs to be international to ensure that experts, researchers and clinicians are connected, that clinical trials are multinational and that patients can benefit from the pooling of resources across borders. Initiatives such as the European Reference Networks (networks of centres of expertise and healthcare providers that facilitate cross-border research and healthcare), the International Rare Disease Research Consortium and the EU Framework Programme for Research and Innovation Horizon 2020 support international, connected research.
Rare disease research reduces costs for healthcare systems. As a result of research, a rare disease patient who is diagnosed or properly treated no longer needs irrelevant tests, ineffective treatment or hospital visits. In addition, research on specific rare diseases often shines a light on more prevalent diseases. Pioneering approaches in rare disease research often benefit the much wider public affected by more common diseases.
There are various types of research and frameworks that are important to the rare disease community, including:
Infrastructures such as registries (databases of patients with their clinical and genetic information) and biobanks (catalogues of human biological samples), which researchers need to do their work. Initiatives such as RD-Connect connect databases, registries, biobanks and clinical bioinformatics for rare disease research.
At present only few European countries fund research on rare diseases through specific dedicated programmes. The E-Rare consortium links responsible funding organisations and ministries that combine scarce resources for national rare disease research and enables the participation of many researchers in transnational projects. 
Fundamental research to identify the cause and mechanisms of rare diseases.
Translational research, which focuses on using the conclusions of basic research to develop therapeutics for patients living with a rare disease.
Clinical research, when medicinal products are tested in humans through clinical trials.
Not only is clinical research important, research into quality of life, working conditions, social needs, integration at school, multidisciplinary education of social service providers is key and supported through projects such as INNOVCare.  
Rare disease research changes the lives of the millions of people living with a rare disease across the world and their families.