Meet Mathieu, who features in the Rare Disease Day 2017 video alongside his mother, Stéphanie. Mathieu, who is 10 years old, lives with congenital myasthenic syndrome, a group of genetic disorders that impair neuromuscular transmission, characterised by fatigable muscle weakness. From a young age, Mathieu's parents noticed that Mathieu had muscular difficulties. He couldn't even push on the pedals of a bike.
Following a consultation with a paediatrician, Mathieu was told that he should see a neurologist in Paris. Confronted by long waiting lists, Stephanie's mother decided to contact AFM-Téléthon who helped her to organise a consultation with Dr Barnerias within a month.
Mathieu had an EMG at the age of four and a half, the result of which was a diagnosis of congenital myasthenic syndrome in November 2012.
At the end of October 2014, a muscular biopsy was planned in order to confirm the diagnosis, since Mathieu was showing conflicting symptoms, ones that would perhaps suggest a different pathology. "It's crucial that we clarify Mathieu's diagnosis, not only so we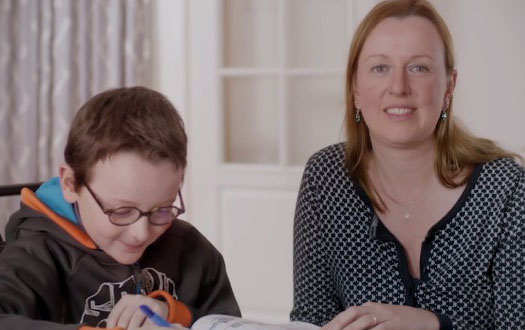 can provide the appropriate treatment, but more importantly for his future. The possibility of a treatment is something that excites me, there's a lot of hope for Mathieu and other children like him" explains Stephanie. "At first I didn't fully understand my son's disease, but I soon became hyperactive, it's important to live life to the full, to enjoy life, we never know what tomorrow will bring."
"I have a neuromuscular disease; it's a muscular disease that means the muscles don't work very well, not as well as Margault's muscles. The disease is called congenital myasthenic syndrome" explains Mathieu. "His legs hurt and his muscles won't let him run" says Margault, "he can't carry heavy loads." Most of the time, Mathieu gets around using an electric wheelchair. When he's older, Mathieu wants to be a medical researcher to find a cure for the neuromuscular disease that he has.