School toolkit: explaining living with a rare disease to young children
Do you know a young child or a family who is dealing with acceptance and making friends at school? Are you a pre-school or kindergarten teacher, and a student in your class has a chronic health condition? Are you a parent or adult who believes in sharing the values of empathy and inclusion with young children?
Within the Rare Disease Day global platform and together with our national alliance rare disease patient organisation partners, we have put together elements (translated in over 20 languages) which might help you start the conversation with teachers or with young children. Please download them, adapt them, and translate them! They are tools for you to freely use.
A Friendship Story
For your use, please find the link to a children's book, A Friendship Story, from established Serbian author Danijela Pešić, also known under her nom de plume Danijela Knez, who herself lives with a rare disease (Pulmonary Arterial Hypertension–PAH). She wrote this book inspired by her own childhood experiences. She collaborated with a children's author on the project named Ivan Drajzl.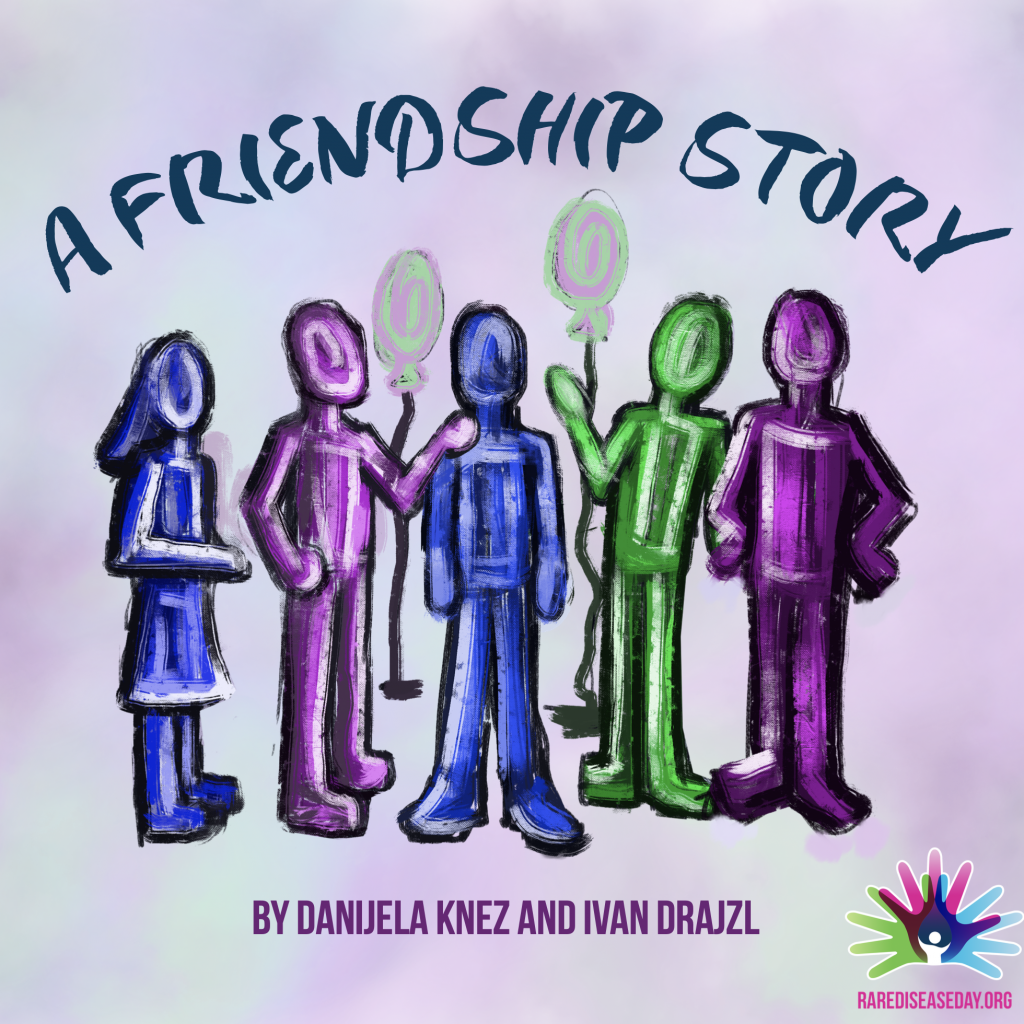 Download the PDF book in one of the following languages:
Albanian, Arabic, Bulgarian, Catalan, English (UK), English (US), French, Finnish, Galician, Georgian, Greek, Hindi, Icelandic, Indonesian, Italian, Japanese, Latvian, Lithuanian, Macedonian, Mandarin, Portuguese (Brasil), Portuguese (Portugal), Romanian, Russian, Serbian, Slovak, Spanish, Turkish, Ukrainian.
Lesson Plan: Share your Colours!
All you need are some crayons or markers!
We have worked with pre-school and kindergarten teachers to prepare an example of a lesson plan. You will find ideas for questions to open a discussion with children, fun activities for them and even information they can take home to share with their parents.
The lesson plan introduces a basic understanding of living with a rare disease to children, it can help provoke empathy for children with a rare disease (or any chronic illness) and it invites children to think about how they can include children who might be isolated in the class or feel or seem different.
Now available in:
Arabic, Mandarin, French, Hindi, Latvian, Portuguese, Russian, Spanish, English
Within the lesson plan, you'll find fun activities for the children to participate in.
We would love your comments about the kit and please share with us at [email protected] any feedback! We are committed to raising awareness for people living with a rare disease and providing all of the necessary tools you might need to spread the word!
More resources from around the globe!
In addition, we have collected here in one place, several resources which already exist and which have been produced by patient groups around the world in a variety of languages – all of which are targeted at helping explain rare diseases to children.